News Pictures
Photographs from various news assignments over the years.
June 2015. Austerity Demo, Parliament Square, Westminster, London.
May 2015. Election Day-after. Thanet, Kent.
UKIP Leader Nigel Farage resigns on a cliff-top in Broadstairs.
July 2016, Highbury Fields, London, England.

A furious Jeremy Corbyn has to be held back and placated by his aides as an ITN journalist accuses him of "running away" (from the battle for the leadership of The Labour Party) after he spoke at a rally.
June 2016. The RAF Red Arrows Display Team flies over The Pride Parade and supporters in Trafalgar Square, London.
November 2007. Her Majesty The Queen photographed on the day of her diamond wedding anniversary to Prince Phillip.
March 2007, Jodhpur, India. Car shot taken through a screen designed to prevent spoiling a Hello Magazine exclusive shows British actress Liz Hurley pictured immediately after her marriage to Indian businessman Arun Nayar.
April 2009. London, England. The hearse carrying the coffin of TV celebrity Jade Goody make sit's way through her native Bermondsey and is covered with flowers thrown by thousands of onlookers. 
Goody rose to fame on TV's Big Brother and was later embroiled in controversy after being accused of racially bullying a fellow contestant on the celebrity version of the show. It was acknowledged that she was generally hated by much of the public, and yet in the six months between being diagnosed with cervical cancer and succumbing to it at the age of just 27, she had become incredibly popular with many people.
August 2012. London, England.
Kate Middleton, along with Team GB Gymnast Beth Tweddle (looking through fingers), look on in horror as Canadian Gymnast Elsbeth Black's vault goes horribly wrong.

June 2009. Oxfordshire, England.
Prime Minister David Cameron pictured talking to News Corp Chairman Rupert Murdoch at the wedding of Rebecca Wade to Charlie Brooks.

August 2006. Stop the War demo in London.
August 2014. The Lee, Buckinghamshire, England.
History began repeating itself as the weather plays havoc with attempts to resume  a 100-year-old cricket match which was abandoned because of the outbreak of the First World War.
The original game, between village teams The Lee CC and Manor House, began on 3 August 1914, but play stopped early due to rain.
The match in the Buckinghamshire village of The Lee never resumed the following day because of the news of war breaking out in Europe. But the modern-day cricket club decided to re-stage the fixture between the village team and a select XI from the local manor house. 
History repeats itself as large hailstones stop play before lunch.
June 2013. London. England.
The Queen is 'not amused' ....whilst Prince Philip is.... as Princess Anne, (Colonel of The Blues and Royals), holds up up a private inspection of the Guards Divisions by Her Majesty in the courtyard at Buckingham Palace. The Princess Royal was standing in the wrong ceremonial position and had to move before the march-past could begin.
June 2007, Horseguards Parade, London, England.
The public side of The Queen's Birthday as Her Majesty inspects guards from The Household Division at Trooping The Colour.
August 2014. Wimbledon, London, England.
Students at Kings College School in Wimbledon collecting their GCSE results in the school's Great Hall.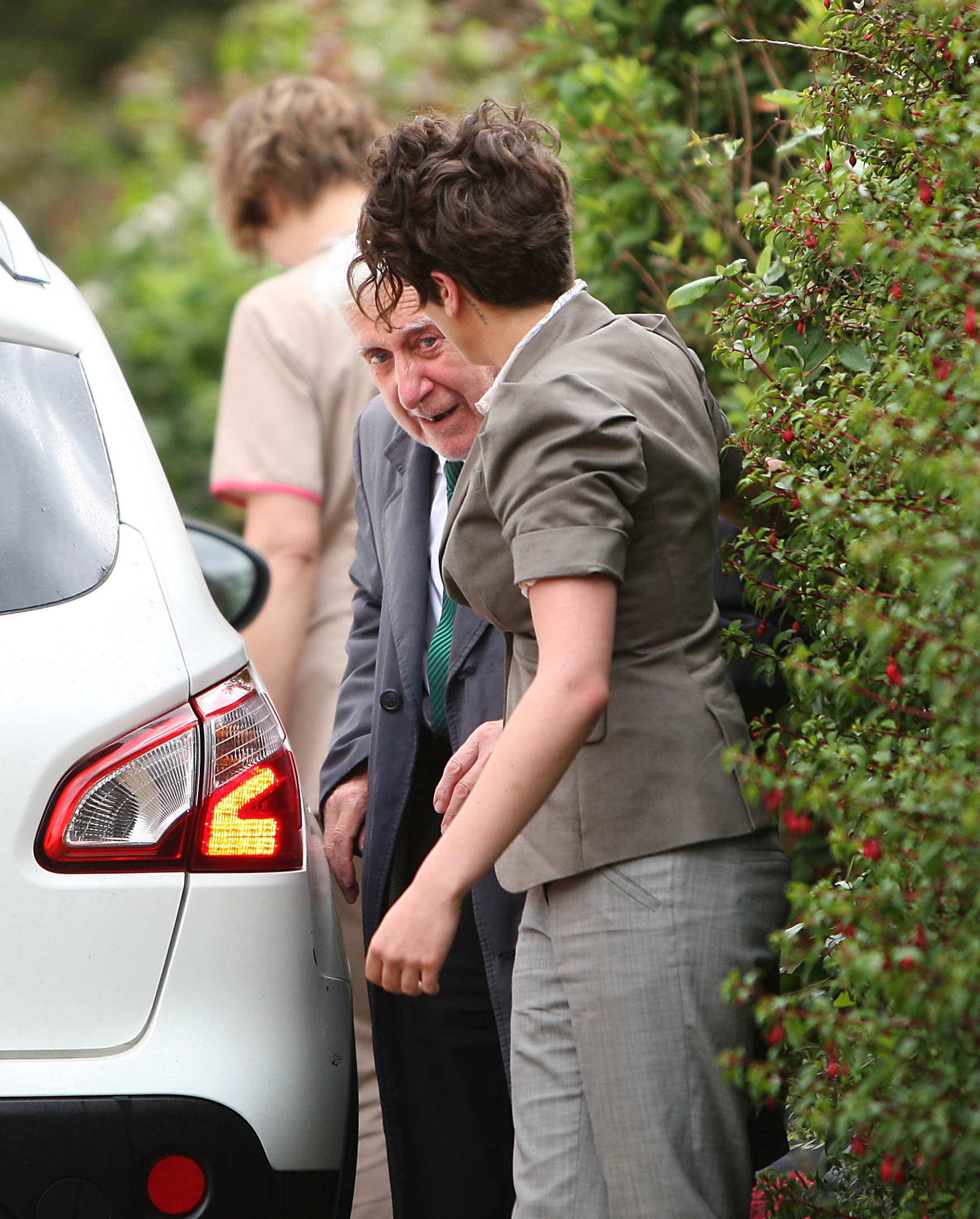 June 2014. Hove, Sussex, England.
WWII navy veteran Bernard Jordan returns to home to his Hove nursing home after "escaping" to go to Normandy to celebrate the D-Day 70th anniversary.
After failing to secure a seat on an organised trip Mr. Jordan walked out of the nursing home telling staff he was going for a walk and made his way over to France under his own steam.
April 2009. London, England.
A bloodied man is arrested after G20 protests in London's banking district.
May 2015. Hampstead, London, England.

 Actress Denise Van Outen leaves a polling station in Hampstead, North London after casting her vote in The General Election.
November 2015. Westminster, London, England.
Participants in The Bonhams Veteran Car Run from London to Brighton crossing Westminster Bridge in the early morning fog.

November 2015. Watford, Herts, England.
Watford v Manchester United. A ticket-less fan tries to catch some of the action through a hole in a fence as a squad of police move to 'secure' the Manchester united team bus.

June 2016. Isle of Wight, England.

Crowds at the IOW music festival pictured watching the England v Russia game from the Euro 2016 tournament in Marseille .England fans celebrate the goal by Eric Dier. Their joy would be short-lived however as the game ended in a draw and England would later exit the competition at the group stages.